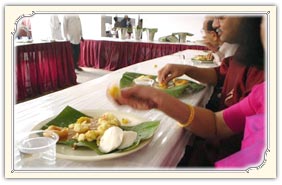 Hyderabad is famous city, known for its delicious cuisine and many restaurants. This 500 year old city not only has restaurants serving traditional ethnic Hyderabadi food, but is also home to several fast-food, continental, Chinese and South/North Indian restaurants as well. Hyderabad also has multi-cuisine restaurants providing traditional as well as different cuisines to satisfy the palates of all the people who go to these restaurants. Known for its incomparable food, Hyderabad has a number of exciting restaurants to eat at. People from all over India and abroad, make it a point to taste the different delicious foods while touring in Hyderabad. Every street in Hyderabad has a restaurant or eatery that serves several mouth-watering dishes. The malls here also have famed food courts and fast food restaurants much to the delight of the people who are fond of shopping. You can have a wonderful time exploring the various cuisines offered in Hyderabad. Enjoy eating out with your family and friends in Hyderabad and make your day a memorable one.
Famous Restaurants in Hyderabad
South Indian
Chutneys
Shilpa Arcade, Near Andhra Jyothi, Road Number 3, Banjara Hills
Southern Spice
Road Number 3, Plot Number 34, Banjara Hills
Tamarind Tree
Yatri Nivas, Under Paradise Flyover, S P Road
Punnami
Next to APTDC Office, Tank Bund Road
Tabla
5th Floor Bhaskara Plaza, Beside Care Hospital, Road No 1, Banjara Hills
North Indian
Haveli
Plot No 50, 51 & 52, Beside Kothaguda Post Office, Harsha Toyota, Main Road
Punjabi Rasoi
Upstairs Hotel Maharaja, Gachibowli X Roads, Gachibowli, Hyderabad
Jalpaan
Oasis Center, 4th Floor, Opp. Kalaniketan Wedding mall, Above Splash, Somajiguda
Tadka
1st Floor, Maharishi Towers, Beside Chutneys, Banjara Hills, Hyderabad
Ghungroo
Plot No 23, Above Heritage Fresh, RTC Colony Trimulgherry
Continental
Fusion 9
1st Avenue, 6-3-249/A, Road Number 1, Banjara Hills, Hyderabad
Sweet Nirvana
Road No 45, Phase 2, Kaveri Hills, Madhapur, Hyderabad
Little Italy
3rd Floor, Madhapur, Hyderabad
Barbeque Nation
Plot No 797 Aarka Prime Apartments, Above Jackjones, Road No 36, Jubilee Hills, Hyderabad
100 Degrees
SM Modi Complex, Karbala Maidan, Ranigunj, Hyderabad
Chinese
Wang's Kitchen
Below HDFC Bank, Hi-Tech Road, Jaihind Enclave, Madhapur, Hyderabad
Chung Hua
5-9-299, Mira Mansion, Plot Number 1, Basheerbagh, Hyderabad
Ming's Court
Basera Inn Hotel, Opposite Old Gandhi Medical College, Basheerbagh, Hyderabad
Shanghai Dice
4th Floor, Uma Hyderabad House, Raj Bhavan Road, Somajiguda, Hyderabad
Bowl O' China
Nagam Tower, NTR Circle, At Patigadda X Roads Junction, Begumpet, Hyderabad
Eat Street
Eat Street is situated on Necklace Road adjacent to Tank Bund Road. You have a number of restaurants set up in one area. Some of the renowned restaurants here include Corn Club, Pizza Hut, Cafe Coffee Day, Minerva Coffee Shop and so on. The best part of Eat Street is that it is situated very close to 'Hussain Sagar Lake'. This way a person can enjoy peaceful atmosphere and relish the lip-smacking food at the numerous eateries at the same time. Many people come here along with their friends and family to indulge in some of the yummiest food available in the city.

Hyderabad is the capital city of Andhra Pradesh and is a dreamland for all food-lovers. There are many types of restaurants here - Continental, Chinese, South Indian, North Indian and much more. So, if you see an impressive restaurant nearby, go ahead and order without a second thought. Make sure you try many of the Hyderabadi dishes available here as these will surely leave you asking for more!