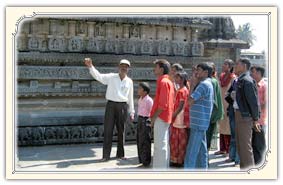 The enchanting city of Hyderabad buoyantly holds together the past and the present. Anyone who visits this city for a holiday is sure to go back with some refreshing and everlasting memories. Earlier Hyderabad was known as 'Bhagyanagar' and was considered the 'Istanbul of India'. The 'Charminar', meaning 'four towers', is a famous monument and is a prominent monument in the city. People visiting Hyderabad make it a point to visit the Charminar while touring in the city. However, there are many other places of historical significance in Hyderabad and to explore these places in a better and safer light, it is always good to be directed by a tourist guide. The tourist guides here are well-acquainted with the sites and are also familiar with multiple languages such as English, Hindi, Urdu, Telugu and a few other regional languages. Some guides are also proficient in foreign languages like French, German etc.
Getting Around The City
Guides are undoubtedly the best people to consult when it comes to visiting tourist sites. Nevertheless, a certain amount of caution has to be exercised while touring with a tourist guide in the city. The first factor of concern during travels is spending wisely. It is imperative that tourists understand the ways of not spending incessantly in situations where it is not required. It is very easy for travellers to be misled and ending up with unnecessary expenditures. Below are some instructions and precautions to be taken while hiring a guide.
Maintain a proper distance from the guide. Do not get overtly friendly, however, make sure you trust what they have to say. After all, they are the ones who are going to help you explore and understand the city better.
Another important thing to remember is not to display your valuables to the guide. Except for the cash which you need to carry, do not carry any other valuables such as jewelry or other precious belongings.
Make sure you appoint tourist guides who are well-versed with the history and the different locations/tourists spots in the city for a complete experience. Do not worry about the money. You are surely going to get your money's worth if you opt for the perfect tourist guide who will cover all the important places and make the trip more worthwhile for you.
Tips are another thing to be kept in the mind. Do not tip the guide too regularly. Save the tipping for the end of your trip.
Make sure that you get the best possible service for the money you are paying them. In case you are not happy or satisfied with their work, you should inform the same to them or to the tourism agency.
There are a good number of registered tourist guides and always the best and safest people to hire. Make sure that if you have hired a registered guide, the guide has his identity card with him.
It is a good practice to carry an itinerary of the tourist locations. There is nothing like exploring an unknown city with a knowledgeable tourist guide and an itinerary set by him/her.
Do not wander off to unknown locations on your own. Stay with your tourist guide and heed his/her advice on where to go, how to reach a certain place and what to expect.
Always remember to be polite and not condescending. Guides are meant to help you when you visit the city for the first time. However, if you have family or a couple of friends living in Hyderabad, there is nothing better than wandering and exploring city with them!
Tourist Guide Information
Hyderabad Tourist Guide
Chanderghat, Malakpet
09704375777
www.hyderabadtouristguide.in
AP Tourism Services
Level 3, Third Floor
Big Bazaar Super Center, Ameerpet,
Hyderabad
09000282897
Keeping these precautions in mind, have a fun and safe trip! When you travel to any place, especially, a new place, there are certain undeniable risks involved. Therefore, it is important that tourists should source enough information from relevant websites, the tourism department or other trusted venues about that particular place. This will help you take precautionary measures while you are travelling alone or with a tourist guide.