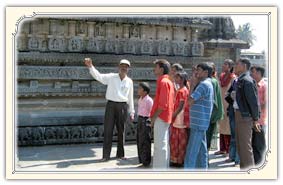 The enchanting city of Hyderabad buoyantly holds together the past and the present. Anyone who visits this city for a holiday is sure to go back with some refreshing and everlasting memories. Earlier Hyderabad was known as 'Bhagyanagar' and was considered the 'Istanbul of India'. The 'Charminar', meaning 'four towers', is a famous monument and is a prominent monument in the city. People visiting Hyderabad make it a point to visit the Charminar while touring in the city. However, there are many other places of historical significance in Hyderabad and to explore these places in a better and safer light, it is always good to be directed by a tourist guide. The tourist guides here are well-acquainted with the sites and are also familiar with multiple languages such as English, Hindi, Urdu, Telugu and a few other regional languages. Some guides are also proficient in foreign languages like French, German etc.
Getting Around The City
Guides are undoubtedly the best people to consult when it comes to visiting tourist sites. Nevertheless, a certain amount of caution has to be exercised while touring with a tourist guide in the city. The first factor of concern during travels is spending wisely. It is imperative that tourists understand the ways of not spending incessantly in situations where it is not required. It is very easy for travellers to be misled and ending up with unnecessary expenditures. Below are some instructions and precautions to be taken while hiring a guide.