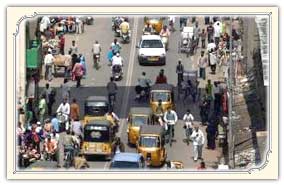 For a tourist, Hyderabad is a place which is hard to resist. The princely state which is also known as the city of Pearls and City of Nawabs offer plenty of attractive travel options for tourists as it presents a perfect blend of its royal heritage and its present cosmopolitan culture. Its minarets and mosques are a traveler's delight and the new thriving city is something which is not to be missed. However, as in the case of any new place, you may face obstacles, pleasant/unpleasant encounters and experiences. It is always better to get an insider's view about the city so that one can generally avoid certain things/aspects while travelling. One of the safest cities in India, Hyderabad promises a journey of a lifetime for all those who visit the place. However, there are certain things to be kept in mind while visiting a new city for the first time. Go through this article and understand the "Do's" and "Don'ts" while touring this splendid city.
Do's
The best time to visit Hyderabad is during winters when the temperature remains below 20 degree Celsius. Always take additional care while visiting the city during the months of June and July when the city witnesses heavy rains and high humidity.
It is always good to rely on buses for long journeys and autos for short journeys in Hyderabad, though the auto fare may be higher when compared to buses.
Don'ts
Though there are not many tourist oriented scams in the Hyderabad city, remember that beggars can be an annoyance while you visit certain places. The best way to is to ignore them.
The tourists must remember to wear conservative dresses while visiting religious sites and remove shoes and hats before entering a place of worship.
While in Hyderabad, travel in groups rather than travelling alone. Though Hyderabad is a safe city, women must preferably avoid travelling alone at night.