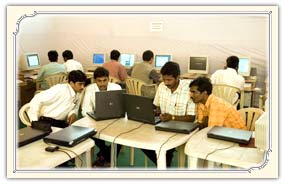 Hyderabad was conferred the title the 'software training capital of India'—and rightly so. The role played by the city of Hyderabad to train the number of software professionals, who get sent to different parts of the country and around the world, have enabled the boom in the software industry in India that we see today. Since 1990, Hyderabad has seen an upward surge in the number of multinationals and tertiary sector services, making the city a tough one to beat, in terms of IT advancement. Many domestic firms and multinational companies have established their headquarters in this city and have contributed to the steady growth of the tertiary sector in Andhra Pradesh. The boom in the software industry has even led to the growth of Hyderabad's very own IT parks such as HITEC City and Mindspace Cyberabad. If you want to know more about the thriving IT industry in Hyderabad, read on.
Types Of IT Companies
There are three main types of IT companies in Hyderabad. They are IT companies, ITES companies and Computer Hardware companies. The IT companies handle the various software development programs for the multiple industrial sectors in Hyderabad and the rest of the world. In this category, Hyderabad has a colossal number of domestic and international companies to its credit. This segment of the Hyderabad IT industry earns the maximum export revenue for the Indian government. The ITES companies (IT enabled services) deal largely with BPO companies and support services. This segment also forms a major chunk of the IT industry in Hyderabad. The third and the final segment of IT companies are the computer hardware companies. Several brands of computer hardware companies provide support to multinational companies and domestic ones and are in the bid to expand their network to the rest of the country.
Major IT Companies
Some of the major IT companies in Hyderabad are-