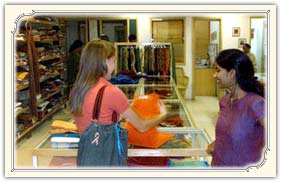 You can hardly keep yourself away from shopping once you are in Hyderabad. The city offers its visitors a remarkable experience and everyone wishes to come back for the same. The accessories and the items available in the markets are unique to the city of Hyderabad and will surely put a hole in your wallet! So, make sure you carry enough cash! Hyderabad is very famous for its pearls, bangles, precious stones and several antiques, which are available at reasonable rates. Hence, it is obvious to take a look at the pearls, handicrafts, apparels, leather goods, traditional craft works and buy them, since they are worth every penny. There are specific places in the city which are meant for shopping like Begum Bazar, Laad Bazar, MG Road, Nampally, Abids, Basheer Bagh etc. There are several shopping centers in the city to support the growing needs of the customers who like to shop in malls. Hyderabad has everything and anything to offer its visitors ranging from the gorgeous pearls, embroidered textiles to exquisite art and craft works. In order to gather more information about the details on shopping in Hyderabad, scroll further.
What To Buy
Hyderabad Bangles
Bangles, like the traditional 'Bindhi' (forehead stickers), have become an integral part of women's lives in Hyderabad. For all the women who love to adorn their wrists with colorful bangles, this is the perfect place to shop for the same. There are hundreds of shops around Charminar where shops display beautiful collections of gorgeous bangles. The most famous type of bangles here is the Hyderabadi Lacquered Bangles, which are molded from pure lac and adorned with beautiful mirror works of different colors. Lad Bazar is another place where you can go bangle shopping.
Pearls And Other Jewelry
Another specialty of Hyderabad is its pearl collection and also other gold and silver jewelry sets. Though the rice pearl is the tiniest of all the types, these are available in exquisite designs and glamourize your attire. Basra is the more precious version of the pearl varieties and is unparalleled to any other kind in terms of lustre, price and also color.
Where To Buy
Most of the pearl stores present in Patar Gatti and Lad Bazar are more than a century old and sell only the reliable varieties of pearl. Also, there are stones available like topaz, jade, garnets and corals. There are hundreds of stores found in Abids, Basheerbagh, Jagadamba Jewellers, Suraj Bhan Jewellers and a few other shops in Secunderabad too. Here are the names and addresses of a few shops.