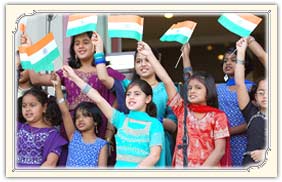 Hyderabad, the historic city of India, is also known as the 'City of Nizams' and the 'City of Pearls'. The city showcases a unique blend of tradition and culture since ancient times. Hyderabad is located on the bank of the river, Musi, and is one among the major cities, with a prominent growth in the IT sector. The city exhibits a potpourri of diverse cultures and houses some of the most gorgeous and beautiful edifices that belong to a former India. Throughout the years, Hyderabad has been a popular spot for tourism, for which tourists have been travelling from across the globe. The city houses several attractions, be it ancient or modern along with its 400 year old history, which never fails to enthrall its visitors. In order to help you plan your holidays to visit the main tourist places, scroll further for the below given list of holidays for the coming year.
List Of Public Holidays In Hyderabad:
Republic Day
Milad-Un-Nabi ( Id-E-Milad )(Birthday of Prophet Mohammad)
Maha Shivratri
Holi
Mahavir Jayanthi
Good Friday
May Day
Buddha Purnima
Krishna Janmashtami
Independence Day
Id-Ul-Fitr
Ganesh Chaturthi
Mahatma Gandhi Jayanthi
Vijaya Dashami
Baisakhi, Vishu/Bahag, Mesadi, Maghi
Bakri Id ( Idul Zuha )
Diwali (Deepavali)
Buddha Purnima
Muharram
Guru Nanak Jayanthi
Christmas
Places To Visit
There are several places to visit with family and friends in Hyderabad. Spare a day to visit one of the largest comprehensive film studios in the world, Ramoji Film City. Snow World is also another popular option, as it is believed to be the world's biggest Snow Theme Park, located close to Indira Park. If you want to unfold the mysteries of the universe and explore the world of all things cosmic, you have to visit the Birla Planetarium. If a calm and relaxed evening is what you want, visit the Lumbini Park, popularly known as 'Tank Bund'. This park stands out from the rest, as it houses an exquisite floral clock and features a musical fountain show for your entertainment!
Eat Street is a perfect place to head out to, especially if you are a foodie! Here, you will find a variety of your favorite snacks, chaats and popular cuisines from around the city and the world. Also, make some time to visit Nehru Zoological Park, which is Asia's largest zoological park, covering a sprawling area of 300 acres. The park houses a considerable variety of snakes, endangered animals and other reptiles. If you are seeking a bit of the old world charm, you cannot miss out on a visit to the Charminar, which has been marked as the 'global icon' of the city. 'Laad Bazaar' and Makkah Masjid are very close to this monument and are popular tourist spots too!
While in Hyderabad, these are the places you cannot afford to miss! Plan your holiday accordingly and tour the 'City of the Nizams'. Apart from the heat of the exquisite Hyderabadi Biryani, all the tourist attractions in this city will surely leave you mesmerized and coming back for more.