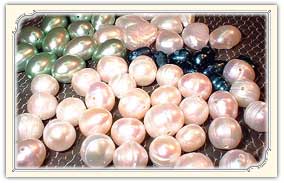 Hyderabad, also known as the 'City of Pearls', acquired this moniker due to its generous benefaction by the Nizams who ruled the city for about 200 years. The wealthy lifestyles of the Nizams attracted scores of gem traders and jewelers from all over the world, particularly those from the Middle East, who offered pearls to the Nizams at unbelievable rates. Thus, pearls are found in profusion in this city and remain an important aspect of the fashion and culture in Hyderabad to date. Pearls can be found in abundance in the city-from local souks to lavish malls, Hyderabad has it all. Whether you are looking for real pearls or cultured ones, small or large, you will never run out of options for pearls in this royal city. If you are looking to buy some of the most exquisite pearls, then Hyderabad is definitely a one-stop destination for all your requirements. Scroll down for more information.
History
Pearls in Hyderabad have a rich and extended history. A royal jeweler, known as Ram Dutt Malji, opened a pearl shop in the city with his son for the first time ever in 1906. Initially, they depended on the pearls coming in from the Persian Gulf. The Nizams were very fond of pearls and due to their importance and stature, they were required to wear the best attire, have the best food and live the finest lifestyle. At the time, pearl jewelry sets were a new concept and were limited. It only seemed fitting to give a royal label to these luscious looking, tear-drop gems. At the time, Ram Dutt Malji was the only individual who owned a shop in the city that sold pearls. Thus, the Nizams appointed him and his son as the Royal Jewelers and got ornate pieces made by them. For over a century, the pearls were being supplied by gems traders from the Persian Gulf to Hyderabad.
Different Classes Of Pearls
Real
These are saltwater pearls and are the most natural types of pearls found. Initially used by the Nizams, these pearls were not sent for polishing or waxing. They were used in their uncut forms in jewelery that the Nizams wore. Today, real pearls are found in all major jewelery stores and are quite expensive. The easiest way to distinguish if the pearls are real is by looking at the shape. No two pearls should look the same or have the same shape. Similarly, the nacre from the mollusk from which the pearl came from, should be seen in bits and pieces on the pearls.
Cultured
Cultured pearls are imitations of real pearls and go through an extensive process of drilling and grading. Then, the pearls are divided according to sheen, size, glaze and uniformity. Separate mantle sheens are also used to cover the pearls. These kinds of pearls are easily available in most jewelery stores and are often used in temple jewelery/ornament sets.
Duplicate
Duplicate pearls are very easy to spot. Do not be fooled by the glimmer and the sheen of the pearls if a vendor is trying to sell you these. These are available in street stalls at inexpensive rates. Therefore, if you are looking for original pearls, it would be best to head out to a local jewelery store.
Pearl Jewelery
Different kinds of jewelery are made from pearls such as necklaces, bracelets, bangles, enameled sets and waist bands. Typical Hyderabadi jewelery sets that use pearls are the 'Satlads', which are made out of seven strands of pearls and precious stones, Kundan sets, lacchas, rassi, chokers, chatai sets and Tanmani. These are available in all big jewelery houses across the city.
Where To Buy Them
Here is a list of some of the best places to shop for pearls in Hyderabad.
Krishna Pearls and Jewelers
Pathar Gatti
040 24417881
Sri Ram Jewelers
C-6 & 7 Mayur Kushal Complex
Hyderabad
Meena Jewelers
Babukhan Estate, Basheer Bagh
Kedarnath Motiwale Pearls
Shop 2/3, Airport Plaza, Begumpet, Opposite To Old Airport
Mangatrai Pearls, Gems and Jewelers
5-9-29/3, Opposite Liberty Petrol Pump, Liberty Cross Road Basheerbagh
Sai Pearls and Gems Shop
Tarannagar, Hyderabad
Apart from being one of the most regal cities in the country, Hyderabad is the hub to buy some of the best pearls from around the world. Whether you are looking for cultured pearls studded in gold and silver jewelery or you are looking for unpolished, genuine pearls, you are bound to find the perfect set of pearls in this beautiful city.