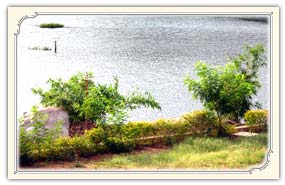 Hyderabad, the capital city of Andhra Pradesh, is popular for its lakes which provide a perfect escape from the hustle and bustle of city life. Hyderabad city, which is located on the Deccan Plateau, has enabled the construction of many lakes as a purpose of storing water from the ancient times. Acting as reservoirs, lakes provided drinking water to millions in the neighboring districts. While some of them have a strong history behind them, most are serene water bodies that are considered the perfect picnic spots in Hyderabad. These lakes also serve as homes for migratory birds that visit the lake and also provide a visual treat to visitors. Though most of them were built with the purpose of storing water, now they are being used for recreational purposes and water sports like parasailing and boating activities for a nominal fee.
Some of the most famous lakes in Hyderabad are Hussain Sagar Lake, Osman Sagar Lake, Durgam Cheruvu, Shamirpet Lake and so on. Hussain Sagar Lake is a historical lake constructed in 1562; by revered Sufi saint Hazrat Hussain Shah Wali to meet the irrigation requirements of Hyderabad. The lake also separates the twin cities of Hyderabad and Secunderabad. The Osman Sagar Lake was built in 1920 by damming the Musi River to meet the irrigation requirements of the twin cities and save the cities from floods and occasional famines. The lake is named after the last Nizam of Hyderabad, Osman Ali khan. The Shamirpet Lake was constructed during the reign of the Nizams. The latter two lakes are perfect picnic spots. So, come and discover the various lakes in Hyderabad.
Gandipet Lake Hyderabad
Gandipet Lake, also known as 'Osman Sagar Lake', is located just off-city limits'20 kms from the heart of the city. The origins of this lake's name dates back to the reign of the seventh Nizam of Hyderabad, Mir Osman Ali Khan. Spread over a sprawling 46 kms, this artificial lake also serves as the prime water source for Hyderabad and Secunderabad.
Hussain Sagar Lake Hyderabad
The Hussain Sagar Lake is one of the popular landmarks and important tourist destinations in the city of Hyderabad. Hussain Sagar Lake, situated about 2 km from the heart of the city of Hyderabad, connects Secunderabad to Hyderabad. The Hussain Sagar Lake of Hyderabad is the largest artificial lake in Asia. This lake was built during the reign of Ibrahim Quli Qutub Shah by Hussain Shah Wali in 1562 AD.
Shamirpet Lake Hyderabad
'Shamirpet Lake', also known as 'Pedda Cheruvu' is one of the well-designed tourist spots in Hyderabad. Situated about 27 km from Secunderabad, this beautiful artificial lake is the perfect personification of serenity and tranquillity. What's more, Shamirpet Lake is located near to 'Jawahar Deer Park', which