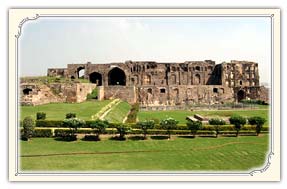 Hyderabad is the capital city of Andhra Pradesh. Though this 400 year old city is blessed with various tourist attractions, there are many other amazing places to see near and just off the outskirts of Hyderabad as well. Just around this glorious city, there are several brilliant tourist attractions that are a must-see while you are visiting Hyderabad. You can travel around Hyderabad and also make your trip a lot more amazing by opting for wonderful excursions in and around the city. Travelling to these tourist spots is extremely easily from Hyderabad, as this city is well-connected by roads and rail.
Some of the best places to explore are located very close to the heart of Hyderabad. One such place to visit is the Dhola-Ri-Dhani also known as a 'mini-Rajasthan', which is a unique tourist attraction. It is a resort-cum-village that resembles a typical Rajasthani village and gives tourists an insight into authentic Rajasthani culture without actually having to travel to Rajasthan. 'RFC' or Ramoji Film City is one of the most popular tourist spots in India. Truly a place worth seeing, Ramoji Film City is a world of its own. Located close to Hyderabad is another fascinating site called Shilparamam, which is a beautiful land of culture and history. Explore the holy site of Buddhists at Nagarjuna Sagar, one of the well-known tourist destinations in India. If you admire South Indian temple architecture, then Warangal is just the place for you. This place is only 155 km from Hyderabad and is a must-visit for anyone fond of architecture. Any nature lover will fall in love with Manjira Wildlife Sanctuary, as this place is the home for a large number of birds and animals and is located beside the Manjira River. So, plan an excursion in Hyderabad and opt for packages or excursions to some of the tourist hot-spots around the city.
Birla Planetarium Hyderabad
The Birla Planetarium, located on Naubat Pahad, is one of the most exciting places to see in Hyderabad. This planetarium was inaugurated by N.T. Ramarao on September 8, 1985. The Birla Planetarium offers an amazing virtual tour of stars, other celestial objects and the galaxy system. This planetarium is the first phase of the B.M. Birla Science Center.
Dhola Ri Dhani Hyderabad
Dhola-ri-Dhani is a beautiful and ethnic Rajasthani themed resort situated in Kompally, Hyderabad. This resort, created like to resemble a typical Rajasthani village, offers the tourists a complete insight into Rajasthani culture right within the city of Hyderabad. Dhola-ri-Dhani is noted for its Rajasthani styled setting and is one of the most popular tourist attractions in Andhra Pradesh.
Laad Bazaar Hyderabad
Laad Bazaar is a popular market in Hyderabad which is known for its colorful lac and glass bangles. The market obtained its name from 'lad' means 'lacquer' which is used to make bangles on which you can see artificial stones studded. The bazaar is filled to the brim with small shops selling authentic
Mahavir Harina Vanasthali National Park Hyderabad
Mahavir Harina Vanasthali National Park is one of the most prominent deer national parks located in Vansthalipuram, which is 15 kms from Hyderabad city. The park which was established in 1975 was named after Mahavir, the Jain Saint, to honour him on his 2500th birth anniversary. The present location of the park was
Mir Alam Tank Hyderabad
Mir Alam tank, a small lake in Hyderabad, is one of the prominent landmarks which lies adjacent to the Nehru Zoological Park. Though the Park and its peaceful surroundings mesmerize the visitors with its beauty, it is its construction which draws tourists to this spot. The origin of the lake can be traced back to Mir Alam who constructed the tank in 19th century.
Nagarjuna Sagar Dam
Nagarjuna Sagar Dam, the world's largest masonry dam is constructed across river Krishna in the Nalgonda district of Andhra Pradesh. With a capacity of 11, 472 million cubic meters and a wall of 6 ft. thickness, it is the largest man-made lake in the world. The dam which is just 165 kms from Hyderabad is a prominent tourist spot for those who visit Hyderabad.
Ramoji Film City Hyderabad
Located about 35 km from the city of Hyderabad, Ramoji Film City is owned by Ramoji Rao, an entrepreneur cum film producer. Ramoji Film City is considered one of the largest film cities of the world. The studio complex covers an area of 2500 acres and is one of the most frequently visited tourist destinations in the city.
Shilparamam in Hyderabad
If you are a great fan of arts and crafts, you cannot afford to miss out on visiting this place at any cost. Shilparamam is an arts and crafts village which is located in a district called Madhapur, in Hyderabad. This village encourages the preservation of traditional crafts, culture and heritage.
Yadagirigutta Temple Nalgonda
Yadagirigutta Temple or 'Sri Lakshminarasimha Swamy Temple' is a 300 foot-high temple situated atop a hill called Yadagiri Hill. At the entrance of the temple, an arch named 'Vaikuntha Dwara' can be seen. The main deities of the Yadagiri Temple include the silver idol of 'Lakshmi Narasimha' and 'Aandaalamma'. During the annual 'Brahmotsavam', the 'Divya Vimana Rathotsavam'