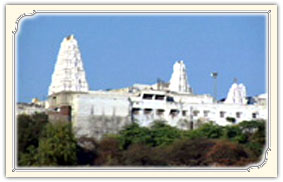 Yadagirigutta Temple or 'Sri Lakshminarasimha Swamy Temple' is a 300 foot-high temple situated atop a hill called Yadagiri Hill. At the entrance of the temple, an arch named 'Vaikuntha Dwara' can be seen. The main deities of the Yadagiri Temple include the silver idol of 'Lakshmi Narasimha' and 'Aandaalamma'. During the annual 'Brahmotsavam', the 'Divya Vimana Rathotsavam' and on the birthday of Lord Narasimha, many festivities are held at this temple. According to legend, 'Yadava' the son of 'Rishyasringa', meditated to please 'Lord Vishnu' as he wished to see three different forms of 'Narasimha'. He was granted his wish and Lord Vishnu appeared in 5 different forms 'Jwala', 'Yogananda', 'Lakshmi Narasimha', 'Ugra' and 'Gandabhrunda'. For this reason, the hill was named after Yadava. It is believed that the ones who worship the deities at this temple for 40 days will be cured of diseases. Scroll down to know more about Yadagirigutta temple at Nalgonda.
Sacred Shrine
Places To See
Yadagirigutta is a temple town and therefore, there are many religious places tourist spots nearby. Apart from the 'Sri Lakshmi Narasimha Swamy' Temple, the 'Pathagutta' Temple is also dedicated to Lord Vishnu. The 'Kaladhamam' is a beautiful Lord Hanuman temple which is located close by. One can also visit the Bhongir Fort, which was built in the 11th century.
Shopping
Hyderabad has many shopping malls and some of the best malls in Hyderabad are the Babukhan Mall located at Panjagutta, Lumbini Mall at Banjara Hills, Ashoka Metropolitan Mall and so on.
Eating Out
Sri Sai Restaurant
1-3-228/9, Vinayaka Chowrasta, Yadagirigutta
Sri Sai Restaurant not only serves delicious food but is also known for its ambience. This is the perfect eatery for any tourist who visit Yadagirigutta and is looking for a peaceful ambience.
Bhargavi Hotel
H.No:-3-143, S C Complex, MRO Office, Main Road, Yadagirigutta, Nalgonda
You can relish the amazing Indian food at Bhargavi Hotel, which is rated among the best restaurants situated in Yadagirigutta. Come and savor the spicy food of Yadagirigutta!
Accommodation
Budget Hotels
ATPDC Haritha Hotel
Sri Lakshmi Narasimha, Yadagirigutta, Nalgonda
Website: www.aptdc.in
Hotel Venkatadri
Temple Street, 4-117, Yadagirigutta
3 Star Hotels
Hotel I K London Residency
6-3-656, Kapadia Lane, Somajiguda, Hyderabad
www.hoteliklondonresidency.co.in
Krishna Residency
Beside ICICI Bank, Main Road, Habsiguda, Hyderabad
Website: www.krishnaresidency.com
5 Star Hotels
ITC Kakatiya
6-3-1187, Begumpet, Hyderabad
Website: www.itchotels.in
Ista Hotel
Road No.2, I.T. Park, Nanakramguda, Gachi Bowli, Hyderabad
Website: www.istahotels.com
How To Reach
By Road
Yadagirigutta is well-connected by road and therefore, one can board buses or travel by car from Hyderabad.
By Rail
The closest railway station to Yadagirigutta Temple is at Raigiri, which is about 3 km from the temple. For express trains, one can catch the express trains from Bhongir Station. Major trains running from Hyderabad to Bhongir station are given as follows:
Dakshin Express leaves Hyderabad at 2.50 AM and reaches Bhongir at 5.00 AM,
Warangal Hyderabad Passenger leaves at 7.05 AM and reaches at 9.10 AM
East Coast Express leaves at 4.27 PM and reaches at 6.30 PM.
Belampally-Hyderabad Intercity Express leaves at 2.00 PM and reaches Bhongir at 3.45 PM.
Bhongir-Falaknuma Express leaves Hyderabad at 5.00 PM and reaches Bhongir station at 6.56 PM.
These trains shuttle from Hyderabad to Bhongir Station on an everyday basis.
Yadagirigutta Temple in Nalgonda is one of the most highly visited temples in India. Approximately 60 km from Hyderabad, this temple is also known as 'Sri Lakshminarasimha Swamy Temple' and is dedicated to Lord Vishnu. Every day, thousands of devotees come here to offer their prayers to the Lord and to witness the festivities organized on important days.