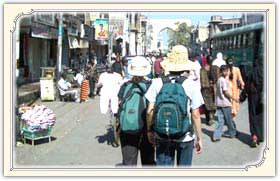 Laad Bazaar is a popular market in Hyderabad which is known for its colorful lac and glass bangles. The market obtained its name from 'lad' means 'lacquer' which is used to make bangles on which you can see artificial stones studded. The bazaar is filled to the brim with small shops selling authentic lac bangles, saris, jewelry and other items for weddings, occasions and general wear. This old market which has been operating since the reign of Nizams and Qutb Shahis lies in the vicinity of other popular buildings such as Charminar, Mecca Masjid and the Chowmahalla Palace. As the street is popular for bangles, it is also known as 'Choodi (bangle) Bazaar'. Located on one of the four roads that come from Charminar, Laad Bazaar is part of the old city of Hyderabad. The road also has great significance as it is one of the arterial roads that connects the Charminar to the Chowmahalla Palace. This bustling street is not just a part of Hyderabad's vibrant history, but is also a booming mercantile hub. Read further to know more about Laad Bazaar and the surprises that await you.
A Popular Bangle Souk
Legend
Legend has it that the Laad Bazaar was set up by former ruler, Mohammad Quli Qutub Shah as a shopping destination for the wedding of his daughter. It is said that he named the Bazaar after his daughter Laad. Since then, the bazaar has been a popular hub for brides-to-be and wedding apparel. There is another folktale which states that the original name of the Bazaar was "Lord's Bazaar" which later changed to its present name. Not only is this market a tourist hub but is also the final destination for anyone who seek some of the most exclusive bangles in the country, be it stone bangles or pearl bangles.
Attractions
Laad Bazzar is popular for bangles in varied designs and styles; its huge collection include bangles, semi-precious stones, pearls, jewellery and other products such as silverware, saris, silk, hand woven materials, cotton, brocade, velvet, gold embroidered fabrics, sherwanis, traditional khara dupattas, lacquer bangles and perfumes. In the narrow lane of the market, you will be greeted by 'burkha' clad women, bangle shops and old buildings with wooden balconies. The most popular bangles that are sold here are colourful bangles and glistening pearls. You will also be surprised to see the entire floors of shops in the bazaar furnished with a soft and clean mattress on which customers are allowed to sit on without shoes. As the street is narrow and crowded, vehicles like auto rickshaws and cars are not permitted inside; the only vehicles that are allowed here are bicycles, motorcycles, scooters and cycle-rickshaws.
Bargaining
Haggling is considered a common occurrence in Laad Bazaar with shop owners and shop keepers keeping exaggerated prices in the expectation of customers bargaining. It is a common proposition if the shop keeper reduces 20-30% of the tag price. In most of the cases, shop keepers employ a staff outside their store to beckon visitors into their stores.
Laad Bazaar is a must-visit or those getting married, those who love jewelery or those who love to shop purely for the fun of it! Hope this article familiarizes you with this street and its surprises in this princely city.