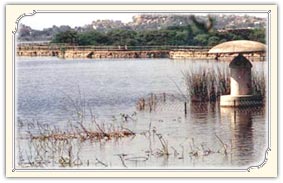 Mir Alam tank, a small lake in Hyderabad, is one of the prominent landmarks which lies adjacent to the Nehru Zoological Park. Though the Park and its peaceful surroundings mesmerize the visitors with its beauty, it is its construction which draws tourists to this spot. The origin of the lake can be traced back to Mir Alam who constructed the tank in 19th century. Name after Mir Alam, it is one of the most prominent tourist spots in Hyderabad with the Andhra Pradesh Tourism Department offering boating facilities. Since its construction 200 years back, it has been satisfying the drinking requirements of Hyderabad. An architectural wonder, its structure is such that it has 21 in-built masonry dams of semicircular shape. With plenty of surprises in store, it is one of the 'must' visit places in your travel itinerary to Hyderabad. Read further to know more about the tank and its attractions.
History
The highlight of the Mir Alam tank is its structure which has twenty one in-built, small masonry dams that are semi-circular shape. Its origin can be dated back to Mir Alam, the Prime Minister of the region who laid the foundation for the dam in 1804. The dam construction was completed in two years. He commissioned the army to construct it using the reward which he received from the Nizam for winning the fourth Mysore War against Tipu Sultan. The Frenchman, Michel Joachim Marie Raymond, to whom the Hyderabad's Raymond Tomb was dedicated is said to have had a major role in its planning.
Rich Source Of Water Supply
Mir Alam tank was also credited for supplying drinking water to the people of Hyderabad before modern storage facilities came into being. Since 200 years of its construction, it has provided water for the people of Hyderabad before Osman Sagar and Himayat Sagar were built. The water in the Mir Alam tank is so pure and tasted sweet that people used to take it in containers while they went on long journeys.
Architecture
A mile long bund with its semi-circular arches makes the lake look majestic and alluring. Another advantage of visiting the Mir Alam Tank is that it lies adjacent to Nehru Zoological Park. The visitors can enjoy the flora and fauna at this part after a short visit to the Mir Alam Tank. The inscription on the tank says, 'In the name of God it flows and thank God it flows and thank God it glides along, 1221 A.H.
Mir Alam Tank is an archaeological wonder which should not be missed if you are visiting Hyderabad for the first time. Hope this article acquaints you with the tank and the surprises that this site has in store for you and your family.