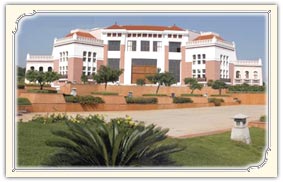 If you are a great fan of arts and crafts, you cannot afford to miss out on visiting this place at any cost. Shilparamam is an arts and crafts village which is located in a district called Madhapur, in Hyderabad. This village encourages the preservation of traditional crafts, culture and heritage. Every year, there are various ethnic festivals at the venue, which are attended by millions of tourists from across the globe. This set up was established in 1992 and is situated close to the city of Hyderabad. Shilparamam, which extends up to 65 acres of land, provides a unique experience, along with exhibiting traditional arts and crafts. This platform was established by the government as a means to promote and motivate the artisans of the state to preserve their respective art forms. Shilparamam is considered to be a tribute to the true beauty of the diverse nature of rural India. It has succeeded to captivate the visitors and is continuing to do the same until date. The place exhibits the rustic richness showcasing a land rich in artistic ethos. Scroll further and find out more interesting attractions within the premises.
Major Attractions
What To See
The Rural Museum here, houses sculptures and other life size models that depict the everyday activities of rural folk, who are involved in making crafts for a living. There is also a rock museum, which comprises of several natural formations with several manmade crafts made by Subroto Basu. Among the lush green lawns, is the recreational area, surrounded by traditional notions and terracotta sculptures. Do not forget to try the local delicacies prepared by local women! You will be craving for more. In the amphitheater, you may get a chance to witness unique performances, ranging from classical music concerts to Bharatanatyam, Bhangra, flute recitals, Perini and also contemporary English plays.
Shopping
There are hundreds of stalls within the premise of Shilparamam. The items available here, range from handmade textiles, sarees, toys, carpets and also textiles belonging to other states. One may find textiles from Tangail, Bandar, Paithni, Sambalpur, Kanjeevaram, Dharmavaram, Madurai, Tanjavore, Peddapuram, Guntur and other places. An Artisan Bazaar is the place where you will find products made by local artisans.
Annual Festivals
An annual festival displaying the collection of arts and crafts is held ever since 1995 in the first week of March. During this time, the artisans from across the country are invited to sell their products here. Various cultural activities are also held in October during the ten day celebration of Dussehra and also during Sankranti Sandadi, which is the festival of harvest held in January. The festivals which are held in Shilparamam include Navrathri, The International Kite Festival, Sankranti Sandadi, Annual Crafts Festival, Ugadi, etc
How To Reach
Shilparamam is located at Madhapur, which is easily accessible by road. You can hire a taxi or board a bus (APSRTC) to reach here. Travelling by rail would also not take you much time to reach this destination. The railway station is at a distance of 25 km from the city of Hyderabad. Shilparamam opens at 11.00 AM in the morning and closes at 8.00 PM in the evening. For an adult, the ticket fare is Rs. 40, whereas for the children, tickets are Rs. 20 per head.
At Shilparamam, you will be amazed with the variety of arts and crafts and the efforts being put by the government and the local artisans to promote and conserve the unique heritage of Andhra Pradesh. While you are here, do not forget to try the local delicacies and take back some souvenirs for your family.