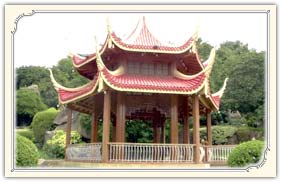 Located about 35 km from the city of Hyderabad, Ramoji Film City is owned by Ramoji Rao, an entrepreneur cum film producer. Ramoji Film City is considered one of the largest film cities of the world. The studio complex covers an area of 2500 acres and is one of the most frequently visited tourist destinations in the city. There are a wide range of technological displays used to enhance the sets of the film with the aid of advanced equipment. This huge complex encompasses 50 floored studios with exquisite outdoor locations, use of high tech laboratories amidst the green landscape and lush greenery. This complex has a capacity to handle up to 20 international movies and 40 domestic movies at a time. In many Bollywood and Hollywood movies, the sets at Ramoji Film City are used as these have over 500 different set types. The film city lies on the outskirts of the twin cities of Hyderabad and Secunderabad.
Right after you enter the film city, you will chance upon star hotels located close to the entrance. These hotels are Tara and Sitara. If you wish to relax after visiting the huge film city, you could always go there and enjoy a royal treatment along with a fine dining experience. While in Ramoji Film City, there are bus services offered to the visitors who wish to cover the film city in a couple of hours. Being one of the world's famous and glamorous film studios of the world, Ramoji Film City has found its place in the Guinness Book of world Records. It also turns out that Ramoji Film City is usually the first choice for producers who want to make big budget Tollywood and Bollywood films.
History
Ramoji Film City was built by the famous Indian film producer, Ramoji Rao, in 1996. It was considered a tribute to the world of cinema and is a dream destination which provides entertainment, recreation and promotes tourism in Hyderabad. Ramoji Film City is known for both its artificial and natural attractions. The artificial waterfalls, hills, lakes, beautiful gardens, amazing architecture and also the amusement park, never fails to enthrall tourists who have come to visit the film city from across the globe.
Amenities
In this film studio, there are live performances at the amphitheater in the film city complex. The sight of the strikingly attractive Mughal Gardens, Majestic Garden, Sun Fountain, amphitheater, etc, enthralls a large number of tourists who visit this place. There are also various entertainment options for children and adults such as dry rides, a toy land, a play area and an adventure land as well. Also, there are places where you can shop for handicrafts, jewelry, pottery or paintings.
Best Time To Visit
It is advised not to visit Ramoji Film City when the weather is hot. It is better to visit this place during the winter season which is from October to February. The entry to Ramoji Film City is not restricted and is open on all days from 9.00 AM to 5.00 PM. Tourists visiting Ramoji Film City, have to buy tickets and the ticket counter closes around 2 PM.
When you are inside Ramoji Film City, you are definitely going to be transported to another world. If you are lucky, you might even get an opportunity to meet your favorite actors or directors too.