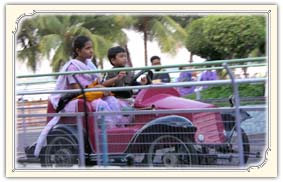 Nehru Zoological Park, which covers an area of 1.2sq.kms, is located in the Bahadarpur area in Hyderabad city. Opened in 1963 the park offers plenty of options including pre-historic dinosaur park, a nocturnal park, mini train, natural history museum, animal rides and so on. The park which is located at a distance of 16 kilometers from Hyderabad was established with an intention of developing an environment which is as similar to a natural habitat. One of the biggest zoological parks in the country, the zoo boasts of over 1500 rare and different species of animals and birds. The zoo has plenty of attractions, of which the main remains the lion safari. Accessible from the twin cities of Hyderabad and Secunderabad, the park is something which must not be missed in the travel itinerary of a tourist travelling to Hyderabad. Read further to know more about the Nehru Zoological Park and its attractions.
Varied Species
Nehru Zoological Park, located in Hyderabad is one of the largest zoos in India. Extended over 380 acres, it is renowned for its huge selection of species including animals, reptiles and birds. Run by the Forest Department, Government of Andhra Pradesh, the zoo is named after the first prime minister of India, Jawaharlal Nehru. Established on 26 October 1959 with an intention to develop the modern zoo in natural environment, the zoo is about 16 kilometers from the Hyderabad bus stand.
Attractions
The attractions of Nehru Zoological Park include elephant rides, natural history museum, children's train, indigenous birds and animals which include tiger, Panther, Indian Rhino, Asiatic Lion, Python, Gaur, Orangutan, Crocodile and a number of birds such as Deer, Antelopes and Birds, of which the numbers would come about to 1500. Plenty of animals bred in the zoo are rehabilitated in varied deer parks and sanctuaries to restock the natural population. It boasts of conducting plenty of safari trips which include lion safari, tiger safari, bear safari and butterfly safari on an everyday basis. It would take almost 6-7 hours to cover the entire aspect of the zoo.
The Inmates
The primates like Chimpanzee from Central Africa, Mandrill, Orangatun, Chacma, Olive and yellow baboons and the Indian primates including rhesus, bonnet, monkeys (stump-tailed, lion-tailed and pig-tailed) and golden and common langurs form part of the Zoo. The visitors can also see carnivores like African and Indian lions, Tigers, panthers, jackals, wolves, hyenas, bears etc and lizards and chameleons, hooded Indian Cobra, Russels Viper, Giant rock-python and tree snakes. People can also enjoy watching elephants, Rhinoceros, Hippopotamus, Zebras, American bison, Antelopes, Black buck, Chousingha, Chinkara, Deer, Sambhar and Brow Antler Deer. Being the only safari park with forest setting for Indian lions in Asia, the Zoo also has both Indian and African lions. Visitors can also see the normal and black panthers in huge enclosures like rock cliffs. Other attractions include Wolves, Jackals, Foxes and Hyena and Ratel. The zoo also has a pre-historic dinosaur park which should not be missed.
Nocturnal House
One of the major highlights of the zoo is the 'nocturnal house' which reverses the day and night timings for nocturnal animals which enable them to be active while visitors visit the Zoo. It houses fruit bats, civets, hedgehogs, leopard cats, mottled wood owls, barn owls, horned owls and fishing owls.
Nehru zoological park is one of the top tourist destinations of Hyderabad. Hope this article familiarizes you with the park which is one of the biggest in India.