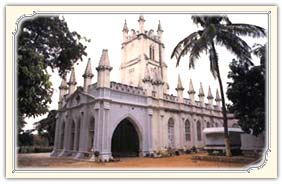 Secunderabad, the twin city of Hyderabad, is known for its monuments belonging to the medieval and pre-independence India. The city is home to some of the most astounding historical buildings, forts, mosques, temples and parks, which exemplify the rich and diverse cultural background of the city. Many of the monuments are well-preserved and are visited by hordes of tourists from across the globe every year. Separated from Hyderabad by the Hussain Sagar Lake, here, at Secunderabad, one can witness the confluence of European and Indo-Arabian culture and artistry. For the tourists, the city also offers world class transportation facilities, which makes sightseeing, a memorable experience. Therefore, if you are planning to visit the city of Secunderabad, you must prepare yourself and learn more about prominent tourist destinations in the region. Go through the lines below and find out more about the important sites to visit while you are in Secunderabad.
Popular Destinations
Victorian Prison
One of the most interesting places in Secunderabad, the Victorian Prison is a dingy military prison, which was used as confinement quarters during the Victorian times. Although the prison is no longer used, it does have an unusual spookiness to it.
Trinity Church
Among the many remarkable places to visit in Secunderabad, the Trinity Church, also known as Holy Trinity Church, is an ancient church that was commissioned by Queen Victoria in 1847. This church, once used as a house of worship for British officers and their families settled in Secunderabad, is now preserved by the local church community.
Rashtrapati Nilayam
Rashtrapati Nilayam, located in Secunderabad, is a structure that resembles the Rashtrapati Bhavan in New Delhi, and serves as a temporary office to the President, for his annual visit. Built in 1860, on a land of 101 acres, the Rashtrapati Nilayam is the only heritage monument in South India declared by the Heritage Conservation Committee.
Sangeet Cinema
Sangeet 70 MM theatre, the oldest cinema theatre built in Secunderabad, was one of the first theatres to screen Hollywood movies in India. This five-decade-old theatre will now be demolished only to be replaced by a posh entertainment center, to meet with the changing times.
Trimulgherry Fort
Trimulgherry Fort, located in the cantonment area, has also been one of the prime tourist destinations in the city of Secunderabad. This fort, built in 1867, is around 3 meters in length and was once surrounded by stables, barracks and arsenals. This ancient structure boasts of its architectural beauty and now, the fort is used as a military hospital.
Secunderabad has plenty in store for its sightseers. Hope the above article has acquainted you with all the important tourist tractions of the city.