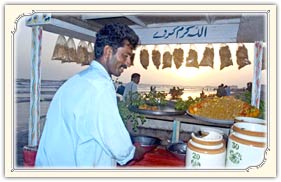 Known as the 'twin-city of Hyderabad', Secunderabad is located in the State of Andhra Pradesh and is steeped in history and culture. This city is named after 'Sikandar Jah' who was the third 'Nizam' of the Asaf Jah dynasty. Apart from the many amazing historical places to visit, Secunderabad has plenty of restaurants and eating outlets at every nook-and-corner of the city. The food here is known for its spellbinding and mesmerizing aroma/flavor. Here, one can explore the extravagant restaurants that serve mouth-watering dishes unique to the city of Secunderabad and Hyderabad. You can also relax and enjoy a couple of drinks at the best bars in this city. The 'dhabas' situated on roadsides offer countless delicacies that lure large crowds of people and tourists. If you are the adventurous type, make sure you try the local food served at these dhabas as they will surely make your touring in Secunderabad/Hyderabad a more memorable one. People who visit this city make sure they eat out with their friends and families to make their trip to Secunderabad more enjoyable.
Restaurants
Well-known for its pleasing delicacies, Secunderabad is filled with a great number of restaurants. The restaurants here never fail to interest the customers with scrumptious specialties and always offer the best service. Some of the best restaurants here include 'Kamat Hotel', 'Paradise', 'Roti Shhoti', 'Nanking', 'Basera' and so on. Inspired by the Mughlai and Tandoori styles of cooking, the dishes served at these restaurants reflect the ethnic diversity of the city. Come aboard and taste the well-known dishes of this city such as 'mutton biryani', 'sheek kabab', 'khatta murgh' and 'dum ka kheema'. Apart from the local Secunderabadi food, there are various sorts of restaurants offering several fares such as Chinese, Continental, South Indian, North Indian, seafood, vegetarian, non-vegetarian and much more. Popular fast-food joints like Pizza Hut, McDonalds and KFC are also available here.
Dhabas
If you love local 'street food', then savor the original flavors of North Indian dishes at the multitudinous dhabas in Secunderabad. Some of the well-known dhabas in Secunderabad are 'Degchee Punjabi Dhaba', 'Sri Balaji Dhaba', 'Santosh Dhaba', 'Sher-E-Punjab Dhaba' and many more! These dhabas may not be sited within the city like classy restaurants but are found on the outskirts or probably even on highways! Enjoy the piquant and tasty North Indian dishes served here and you will surely fall in love with this city even more. Order the 'kadhai paneer', the 'aloo gobi' or the 'rajmah' along with hot rotis and get ready to be transported to food heaven!
Bars
Apart from the restaurants and dhabas, Secunderabad is also home to a number of bars that also offer food along with alcoholic/non-alcoholic drinks. You can check out 'Mehfil Bar', 'Mount Paradise', 'Nice Spice Bar', 'Broadway' and many other bars in this vivacious city. Enjoy the music, drink to your heart's content and hang out with your friends in the best bars by night.
Secunderabad is a hub for several restaurants, bars, dhabas and many other bistros. One can enjoy authentic Secunderabadi cuisine as well as other cuisines such as Continental, Chinese, Thai, Rajasthani, South Indian and more. Touring in Secunderabad is incomplete without visiting the popular dine-outs and street joints in this city. Relish eating out in Secunderabad with your friends and family.