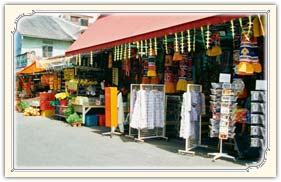 Secunderabad, also known as the "twin city of Hyderabad", is a city that was established during the 18th century. This magnificent city, rich in history, once served as an important base for the British army. Today, Secunderabad is an important commercial center of Andhra Pradesh. Secunderabad is a major city with a number of exciting shopping destinations, attracting the tourists who come here. The many shopping attractions here include saree shops, electronic shops, household shops, lingerie shops, jewelery shops and various antique and handicraft shops. Secunderabad is famous for wedding shopping and for this reason several wedding shops are established here. Some of the major shopping areas in Secunderabad include MG Road, Subhash Road, Sardar Patel Road, Sarojini Devi Road and Rashtrapati Road, where you can find everything. Check out the various shopping places in Secunderabad and take home all your favourite goodies. Come and indulge in the shopping experience of a lifetime in Secunderabad.
Jewelery
Secunderabad is known for its gorgeous collection of jewelery. You have jewelery ornamented uniquely with precious stones and gems. One can also find gold and silver jewelery adorned with beautiful pearls such as "Basra pearl" and "rice pearl", which are some of the most exquisite pearls found of Secunderabad. Imitation jewelery with intricate designs as well as studded bangles and glass bangles are available in the numerous jewelery shops in Secunderabad.
Sarees
As Secunderabad is the hub for wedding shopping, get ready to be amazed by the many shopping outlets. You have silk sarees, "pochampalli" sarees, "kothakota sarees and various other types of sarees are available here.
Handicrafts
If you are looking for souvenirs to take back home, make sure you take a look at the collection of elegant handicrafts such as unique decorative pieces, brassware, metal ware, silverware, excellent paintings and artworks.
Malls In Secunderabad
Some of the popular malls in Secunderabad are - The Chennai Shopping Mall, Jawahar Mall, Park Lane Mall, Paradise Shopping Centre and CMR Shopping Mall.
The Chennai shopping Mall is located on Sarojini Devi Road and is a perfect shopping center for garments, sarees, accessories and jewelery. Jawahar Shopping Mall is situated in Market Street and here one can find a large number of electronics, home appliances and luggage.
The Park Lane Mall is one of the well-known shopping spots in Secunderabad. In this mall, one can get several items like readymade garments, gadgets, textiles and more at great discounts.
You can visit the Paradise Shopping Centre on Sarojini Devi Road and explore many famous shopping outlets there.
The CMR Shopping Mall is one of the busiest malls in Secunderabad where you can get just about everything under the sun!
Markets, Streets And Bazaars
Mahatma Gandhi Road, previously known as James Street, is one of Secunderabad's most active shopping areas. You can buy beautiful handicrafts, pottery works, imitation jewelery and antique items. This road leads to well-known places like Pot Market and Tobacco Bazaar. People can also shop at General Bazaar and Cloth Market.
The General Bazaar is renowned for its many jewelery shops, which were set up 150 years ago. Gold and silver jewelery with exceptional are available here. Several wedding shops are found here as well. 'Zari' and 'Kanchi' saree shops are a hit among the many tourists who visit this place.
In Secunderabad, Monda Market is the largest wholesale vegetable market. Here, the vegetables are not only fresh but are priced 30 per cent lower than all the other bazaars in Secunderabad.
Patny Centre is the most important business sector of Secunderabad. In this popular place, there are a number of shopping complexes and shopping outlets. Some of the prominent shopping complexes include — Kalamandir, R.S Brothers, Chandana Brothers and Kalaniketan. The various shopping outlets here cater to cosmetics, garments, gift articles, dress materials, silverware, fashion accessories, jewelery and lots more.
Here is all the information you need to know about shopping in Secunderabad. Truly a shopper's delight, Secunderabad has so much to offer! So if you are touring Secunderabad, make sure you visit Secunderabad's famous shopping spots. Do not forget to pick up mementos from Secunderabad for yourself and for the ones you love before you head back home.