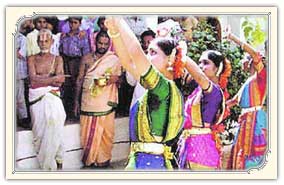 The music and dance in every city is a window to a city's past and evolution. Many may dispute that the music and dance of Hyderabad, is primarily an incorporation of the music and dance culture of different cities. However, the resulting amalgamation is still distinctly their very own. Both, dance and music, contribute to the cultural identity of the city and whenever a tourist visits this metropolis, he/she is left with the sweet memories of the music and dance festival of Hyderabad. The city of 'Nizams' is steeped in tradition and a rich culture and is bound to have a rich collection of music and dance that is identifiably their own. The Nizams, during the Asaf Jah dynasty, considered music and dance as a major form of recreation that would often get assimilated into religion. More often than not, during the reign of the Nizams, music and dance were also used as tools to practice meditation and to preach the deity's teaching. Classical Carnatic Music is one of the most important forms of music and is unique to the culture of Hyderabad. Kuchipudi is a beautiful poetic dance and is the most popular dance form in Andhra Pradesh. Scroll down for more.
Classical Carnatic Music
Carnatic Music is believed to have a divine origin, just like the other art forms in Indian culture. Also spelled as 'Karnatic', this form of music owes much of its origin to ancient discourses and the origins of musical notations known as 'swaras'. These notations are then arranged together in a manner that would produce melodious tunes, synchronized with pitch (raaga) and tempo (talaa). This form of music is especially close to the people of Hyderabad because some of the gurus of Classical Carnatic Music belonged to this city. They are, Saint Thyagaraja, Shyama Shastri and Muthuswami Dixitar. This form of music is still practiced and learnt in Hyderabad, and continues to provide a window into the rich culture of this beautiful city.
Dance
'Kuchipudi' is one the most celebrated forms of dance in Hyderabad. The dance is a mixture of acting and poetic movement, accompanied by Classical Carnatic music. The movements are scintillating and heavy on the feet. This dance originated after the reign of the Nizams. During the Asaf Jah dynasty, dance forms such as 'Kathak' were popularly performed in courtyards. A local dance, called 'Perini', also hails from this city. It is usually performed by males and is a warrior dance representing the different forms of Lord Shiva.
Annual Music And Dance Festival
The annual music and dance festival is a week-long event and highlights the importance of dance and music in Hyderabad. Musical aficionados and distinguished dance exponents from all over the country come together and perform in this culturally diverse city. Organized by the Andhra Music Academy and the Annual Dance Committee, this festival also features performances by students of various dance and music academies. During this festival, one can interact closely with music/dance maestros and even indulge in some of the city's local delights at the food fair! Every year, several musicians and dancers are honored with various prestigious titles at this festival. The Annual Music and Dance Festival of Hyderabad exhibits the cultural and historic aspects of Andhra Pradesh. From Bharatnatyam to Kuchipudi and Carnatic Classical to Hindustani Classical, this event showcases it all!
Hyderabad is well known for a lot of reasons like food, shopping and even historic sites. However, if you look at the bigger picture, both, dance and music portray the unique imprint of the city's culture and morals and gives an insight into the recreational aspects of a regal past. If you are in the city, make sure you visit the Music and Dance Festival of Hyderabad or even just catch up with a few shows featuring remarkable talent and indigenous music and dance. In a city as culturally rich as Hyderabad, you will never fall short of entertainment in terms of music or dance events.