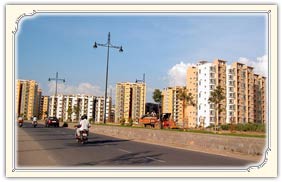 Hyderabad, the capital of the southern state Andhra Pradesh is located on the banks of Musi River in Deccan plateau. The city which houses a population of 6.8 million has 7.75 million residents which make the city, the fourth populous in the country. Having built on the banks of Musi River, the princely state was founded by Muhammad Quli Qutb Shah in 1591 and is renowned for its delicious food, rich history and its multi-lingual culture. The city which has plenty of epithets associated with it such as 'city of pearls' and 'city of Nawabs' has emerged as one of the most prominent tourist spots in India, thanks to the perfect blending of old city which is characterized by Charminar and Mecca Masjid and the new city which is growing at a fast pace through its malls and film city. The city is also easily accessible from all parts of India with regular flights operating between Hyderabad and the major cities in India. Read further to know more about Hyderabad and its location.
Topography
Hyderabad city which is spread over an area of 260km2 is located in Deccan Plateau rises 536 meters above the sea level at latitude of 17.366' N and a longitude of 78.476' E. The city boasts of a unique landscape of rock formations that are almost 2.500 years old. The city has red sandy type of soil and falls in the seismic zone-I which makes the land least exposed to earthquakes. The highest point in Hyderabad is Banjara Hills and the contour level gradually falls from west to east which leads to the creation of a trough near the Musi River that runs through the city. This feature has facilitated sufficient water supply to the city.
History
Hyderabad city was built on the banks of Musi River and has grown on its banks. This historic old city also houses monuments such as Mecca Masjid and Charminar also witnessed a shift in the Northern part of the river with the introduction of new buildings. There is also a twin city to Hyderabad namely Secunderabad and these cities are located on either side of Hussain Sagar Lake. The Musi River which originates from Anantagiri Hills joins the river Krishna near Wazirabad on which two dams are constructed namely Osman Sagar and Himayat Sagar. The river satisfies the drinking water requirements of Hyderabad city.
Reacheabiltiy
Hyderabad is one of the most accessible cities in India. Located in southern India, regular flights operate between Hyderabad and the other prominent destinations in India. There are regular flights and train services between Hyderabad and other metropolitan cities like Delhi, Mumbai, Kolkata, Chennai and Bangalore. Southern states like Bangalore and Chennai has regular bus services which are run by APSRTC. The city is just 650 kilometer from Vishakhapatnam which is a prominent port in the south eastern coast of India. Hyderabad is also part of south central zone of Indian railways and has emerged as a major rail junction. Having a wide connectivity with 7030 stations all across the country, its location which is on the north western part of Andhra makes the city accessible to both southern and northern states.
The location of Hyderabad is such that it makes perfect stopover for tourists to south India. Hope this article familiarizes you with its location and geography.