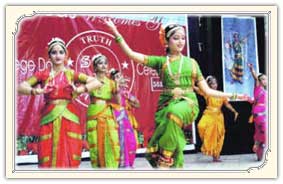 Hyderabad, also known as the 'City of Nawabs' is steeped in rich culture and history. The city is known for its opulent heritage, with a wide array of mosques, churches, temples, monuments, historic places, food and the arts. The city of Hyderabad is recognized for its hospitality and is the one place where you can find a perfect amalgam of North and South Indian dwellers belonging to different regions. Telugu, Tamil, Malayalam, Hindi, Urdu and Marathi are some of the many languages that are spoken here. Hyderabad has its own distinctive culture with the profusion of Islamic and Hindu philosophies. People who speak Telugu and are of 'Andhra' descent are called 'Andhraites', whereas, the people whose vernacular Hindi language is Urdu, are typically known as Hyderabadis. The food in Hyderabad is considered to be the fieriest in India and is indeed, fit for the kings! Hyderabadi Biryani, 'Double Ka Meetha', 'Haleem' and 'Naancut' biscuits are some of the popular food items here. Festivals such as Diwali, Eid, Dusshera and Christmas are also celebrated on a large scale annually. A perfect blend of traditional ethos and modern lifestyle, the culture of Hyderabad is a diverse one.
Language
The population of Hyderabad speaks a number of diverse languages such as Hindi, English, Urdu and Telugu, making Hyderabad, a truly cosmopolitan city. Hyderabad, being the capital of Andhra Pradesh, has the perfect concoction of North and South Indian languages. In many nooks and crannies of the city, one will be able to hear the local dialect, Urdu, which is popularly read, written and spoken here.
Hyderabad was the hub of the Bahamani Kingdom and traditionally, Urdu was the court language of the royals. Centuries down the line, Urdu is still commonly used in Hyderabad. Telugu is the native language of Andhra Pradesh. Derived from the Dravidian community, Telugu dates back to ancient times and is the second most popular language in Hyderabad. Apart from Urdu and Telugu, Hindi, English, Marathi, Tamil and Gujarati are also followed in this city.
Food
The 'tehzeeb' (culture) of Hyderabad would be incomplete without a special mention of its zesty food. 'Mehman-nawazi' (hospitality), combined with the rich fare of the Hyderabadis, have won praises and accolades all over the world. If you are new to Hyderabad, get ready to be completely bowled by the traditional Hyderabadi cuisine in the umpteen restaurants and food stalls located all over the city.
Hyderabadis are proud of their 'Irani Chai' (tea), Hyderabadi Biryani, 'Lukhmi', 'Mirchi Ka Salan', 'Double Ka Meetha', 'Naancut Biscuits' and 'Haleem'. Most of these dishes are found in big and small restaurants and are also sold by local vendors in the ancient parts of the city. A perfect blend of Mughal, Nawabi and Andhra cuisine, the food in Hyderabad is a paradise for all those who love a bit of 'fire' and rich cuisines, complete with 'Desi Ghee', dry fruits, meats and lots of masala!
Arts
There are innumerable art centers for all those wanting to savor a taste of the world of 'arts' in Hyderabad. Head straight to a cultural center or a local university to learn more about Telugu/Urdu literature or head out to an art center to witness the mesmerizing forms of dance and music. Kathak, a popular dance form, whose inception was in the courts of the Mughals and Nawabs, is the most famous dance form in the city, followed by Kuchipudi, Bharatanatyam and Odissi. Hindustani Classical Music and Carnatic Classical Music are also unique to the traditions and cultures of the city. If you love paintings, regular exhibitions at the various arts and cultural centers in Hyderabad will give you a whiff of typical Nawabi styled portraits and contemporary paintings.
Festivals
Festivals such as Dusshera, Ramzan, Eid, Christmas, Diwali and Navaratri are celebrated on a grand scale all over Hyderabad. Being a melting pot of cultures and ethnicity, Hyderabad has its very own range of festivals that are unique to its culture and traditions. The Deccan Festival is an important event and is held in Hyderabad annually. Other festivals such as Muharram, Bonalu, Sankranti and Rakhi are also celebrated with great fanfare across the city and state.
Cinema
Hyderabad is home to the Telugu Film Industry, also known as Tollywood. The Tollywood film industry is the largest in the world in terms of architecture and also holds a Guinness World Record for the same. The industry is also associated with the Motions Picture Association of America. Founded by B.N. Reddy and Narayana Swamy, the Tollywood Industry forms the lifeline of the entertainment hub in Hyderabad and the rest of Andhra Pradesh.
Local Hyderabadis and Telugu inhabitants are believed to be extremely passionate about their film industry, making Telugu films one of the most popular sections of films around the world. Hyderabad is home to Ramoji Film City and also hosts some of the biggest film festivals in India such as the Busan Film Festival. If you are willing to take a glimpse of the entertainment in Hyderabad, it would be best to watch a Tollywood film or even just visit Ramoji Film City!