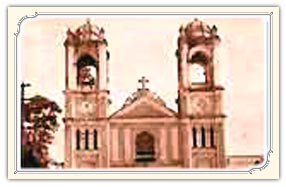 St. Joseph's Cathedral, situated in Gunfoundry, is one of the most remarkable cathedrals in Hyderabad. This Roman Catholic Cathedral belongs to the Archdiocese of Hyderabad and is named after 'Saint Joseph', the father of 'Lord Jesus'. The construction of St. Joseph's Cathedral began in 1869 by Fr. Antonio Tagliabue, but the entire construction was only completed in 1872 under the direction of Fr. Luigi Malbreti. It was only in 1875, on the Eve of Christmas, when St. Joseph's Cathedral finally opened for the flocks of devotees. The cathedral's Italian architectural designs and the gigantic bells d on the top of the cathedral will leave anyone mesmerized. Many famous celebrities have also visited this great cathedral over the years. Christians and even non-Christians come to visit this cathedral, especially during Christmas time and on 'Good Fridays'. People from all over the world come to this cathedral to explore and revel in its architectural and spiritual magic.
Architecture
St. Joseph's Cathedral is built in Italian style of architecture, which makes this cathedral extremely unique. The cathedral has a large main hall that can accommodate over 500 people at the same time. One of the most unique features of this cathedral is the 5 massive bells that are placed at the top of the cathedral in the bell tower. These bells were designed and brought in from Italy. Not only do they enhance the architectural beauty of the ancient structure, but are also tuned to the tunes of hymns that are played at the cathedral every day.
One can even spectacle the amazing views of the city by standing at the top of the bell tower. The local people believe that these bells are holy and protect them from storms and lightning. Hence, the bells are rung vigorously to warn the dwellers before a storm. Within the cathedral, there is a replica of the popular painting of Michelangelo, known as 'Pieta'.
Things To Do