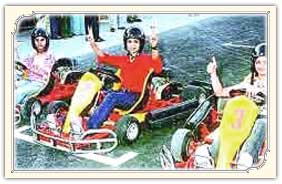 Treasure Island, located 15 kms from the heart of Hyderabad, is a popular amusement park that attracts a large number of tourists every day. Over 60 acres of lush green landscape and colorful rides bedeck the amusement park and offer activities for both children and adults. The park is in fact, the perfect holiday spot and offers several venues of unlimited entertainment. Whether you want to unwind at the cottages in the evening or you want to experience the kicks from go-karting, Treasure Island is the perfect destination to head out to with your family. If you are planning on staying the weekend at this amusement park, the numerous cottages are the perfect abodes to ensure a fun-filled weekend away from the bustle of drab city life! Dancing or even chugging down a few beers at the park's bar with friends is possible at this amusement park So, scroll down and discover what this amusement park has in store for you!
Entertainment
There are many entertainment sections for both adults and children such as the swimming pools, indoor games, camel rides, dry rides and even water slides! If you are looking for some high-adrenaline, unadulterated fun, you could even try go-karting and let your hair down. Splashing in the waters of the swimming pool or even enjoying horseback/camel rides around the amusement park, promise to keep you entertained for hours! Treasure Island has three main dance floors for you to showcase your talent with DJ's playing chartbuster favorites. If you are looking for a pub and haven't found one yet, then do not worry! At Treasure Island, a pub, open till 4.00 AM in the morning will cater to all your needs. The park is also famous for its natural flora and fauna. Here, you will be able to spot deers, ducks, rabbits and a variety of birds if you are lucky!
Food
It is easy to surrender to the magic of the exclusive food and cuisines that are all set to cleanse your palate at this park. Take your pick from a wide array of cuisine options such as Chinese, Hyderabadi, Mughlai, Continental and even Japanese, if you are looking for something unique! After some robust, fiery food, you can head straight to the ice-cream parlor for dessert.
Stay
If you are planning on staying the weekend at this amusement park, then you will not be let down. Over 30 bamboo cottages are designed to make your stay at the park a pleasurable and a memorable one! Simple and tasteful, these cottages promise to make your vacation a perfect one and are designed with state-of-the-art facilities and infrastructure.
Nearby Attractions
If you are visiting Treasure Island, then get ready to be blown away with some other amusement parks around this one. You could explore Elless World, Ocean Park or even head out to the Gandipet Lake for a change.
How To Reach
By Road
You can hire local transport or board a bus to Gandipet. Once you disembark at the Gandipet Bus Depot, you can either walk or take an auto-rickshaw to the park.
By Rail
Local trains from Kacheguda station to Osman Sagar station are available at regular intervals, which will bring you to Gandipet. Once you get off the train, you can opt for local transport to reach the amusement park.
Treasure Island is more than just a regular amusement park. It is more of a family hangout joint and a place where you can unwind and relax over the weekend. Apart from the water rides and the dry rides for children, the amusement park promises and delivers entertainment for everyone, regardless of age. So, make sure you visit Treasure Island when you are in Hyderabad.