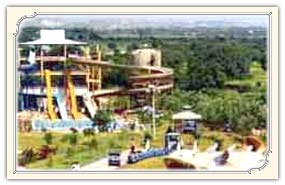 Located just 20 km from the city center, Ocean Park is one of the best water parks in Hyderabad complete with exhilarating water rides and state-of-the-art facilities. A section aimed primarily at the kids includes a wide array of water slides, wild slides, duck jets and lazy rivers to choose from. A guest house situated close to the park offers overnight accommodation for those wanting to spend the night and come back to the park for a gala time in the morning. The rides and the infrastructure at Ocean Park are of international standards and anyone who visits this park can be assured of the quality and the safety precautions implemented here. Spread over 20 acres, Ocean Park gives you the feeling of lazing around on a warm, sunny day at the beach and transports you to a world of all things blue! There are two major sections at Ocean Park-A water sports section and an amusement games section. Scroll down for more information.
Main Attractions
Ocean Park is the perfect destination for children and adults who are seeking thrilling, one-of-a-kind adventures. Here you can relive your childhood and frolic around amid the various water slides, wave pools and dry rides. The park continues to be a big hit with people because there are two very clearly defined sections in the park. One is the water sports section where you can practice jet-skiing in an artificially created sea or you could even practice your scuba diving skills!
The other section is the amusement games section where you can enjoy getting dizzy on water tea cups, toy trains, wading pools, water slides, floating bridge, tilting buckets, swimming pools and video games! The main highlights of this water park are the wading pool and the 100 ft. slide which promise five minutes of bone-chilling adventure! If you are getting bored with the water rides, you can move on to the dry rides section and experience the thrills of sitting on looped rollercoasters, tora-tora rides, duck-jets, hot air balloons or even explore the indoor games section.
Infrastructure
The park is spread over a vast expanse of 20 acres just off the outskirts of Hyderabad. Neatly divided in two sections, Ocean Park is built with state-of-the-art technology and to international standards. There are over 20 different food stalls at the food court serving various dishes from multifarious cuisines. Locker facilities, rest-room facilities and infirmaries are also located within the park. There is a Sagar Mahal guesthouse located just outside Ocean Park where families can choose to stay overnight to continue their adventures at the park the next morning. One can also find landscaped gardens at this beautiful park, adding to the exquisiteness of this place.
How To Reach
By Road
As Hyderabad is a metropolitan city, you can reach Ocean Park by either private means of transport or government bus services. From Hyderabad, hire a local taxi or an auto-rickshaw to reach Mehadipatnam. From here you could opt for public bus services directly to Ocean Park. Some of the buses routes are 120, 220S, 220J and 120M.
By Rail
Local trains from Hyderabad/Secunderabad to Mehadipatnam are available at regular intervals. Once you get off at Mehadipatnam, you could board a local bus and get to Ocean Park directly.
Ocean Park is open to the public on all days and is one of the few amusement parks built to international standards and quality. People who visit Ocean Park come out feeling refreshed and more alive than usual. Situated just off-city limits, Ocean Park promises thrilling adventure, rides and activities for you and your family! If you are looking for a day packed with excitement, then Ocean Park is just the place for you!